About Kris Johnston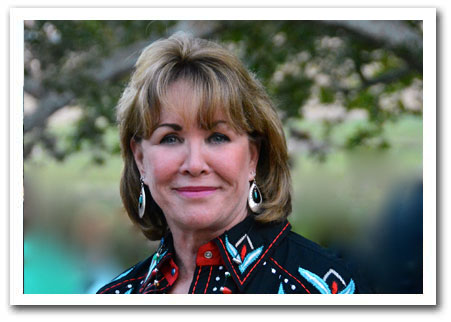 Kris Johnston
Broker Associate, Partner & Owner
In a career spanning over 30 years of Real Estate Investment and Development, Kris is now representing, as a Broker and partner of Central Coast Landmark Properties, some of the finest Estates, Wineries, Vineyards, Ranches and Undeveloped Land. With her partners she has found a special niche and has specialized in unique Wineries and Vineyards, and great ranch land for horses and cattle.
Starting in 2009, while working at Sotheby's International Realty of Santa Barbara, Kris gained a ranking of Top 1% in a sales force of around 45,000 associates, and continues that excellence still today. Kris offers her clients a positive, personal approach, discreet representation, world-class marketing with internet technology, and an international reach.
Kris gained her professional edge early when promoted to vice president of a prominent Bay Area Savings and Loan by the age of 24. Simultaneously, she partnered with one of San Francisco's top interior designers, developing her love for restorations of fine estates. Kris has since compiled a professional portfolio that includes successful 1031 exchanges, commercial properties, land purchases and new construction in some of the hottest real estate markets found in California.
Kris is a businesswoman. She is the founder and partner of Central Coast Landmark Properties, the founder of Ryding Hy LLC., known for producing national Champion Arabian Horses, as well as becoming a top location for corporate events and car commercials, founder of the Summerland Beach Club Fitness Center and Spa, and one of the original investors in Ariat, a worldwide equestrian footwear manufacture.
An active sports enthusiast, Kris has shown and bred national champion horses, competed in 50-mile cross country races, played competitive tennis, loves skiing and is an avid golfer, belonging to the SB Women's Golf Club, the Lake Arrowhead CC and the Alisal Ranch CC.
Testimonials
"Kris was our listing agent and was always enthusiastic about the property but very realistic about the client that would appreciate its unique qualities. She was always responsive when we needed to reach her on any issue. At close of escrow she went above and beyond to make sure we got the concurrent closing that was requested by the buyer. She made the whole experience much easier than it could have been."
penisn
"Kris is an amazing professional. She knows so much about the area and the homes that are available and really customizes the search to meet your demands. She really listened to our needs and was super patient. We spent numerous weekends looking at properties and she had amazing energy and tenacity. Once we found our new home, she assisted in every step of the process. She was a true advocate for us. I cannot imagine having better service. She really knows the Santa Yenz Valley."
Tara Morgan
"Kris made selling my house a painless and in fact a great experience. From our first meeting until the close of escrow she was always on top of it at all times. Her local knowledge about the market I am in was very impressive. Her responsiveness was quick and always detailed and complete - she addressed any and all of my concerns and I always felt that I was in the best of hands. I would call her and if she could not pick up I immediately got a text letting me know when she could return my call, it was always within 30 minutes but most of time no more than 5 minutes later. She gracefully and fairly bridged any gaps between me (the seller) and the buyer. And what I liked the very most is that she got things DONE and did it RIGHT the first time. She had her special network of loyal contractors/handymen that took care of ALL the repairs from fixing the roof, to repairing dry rot, to fixing a leak, to painting touch ups. If it had to be done - she made it happen quickly and effortless on my part. My house was sold in a tough market in just 35 days at the price I was very happy with. Great Job Kris!"
stevepappas4
"Absolutely amazing! Kris was recommended to me to sell my home in Santa Ynez, her knowledge, professionalism and dedication were very impressive. Her warm personal approach made me feel like I was her only client as she was guiding me through the selling process. I was so impressed with the great job she did selling my home that I had to employ her to find my new home. And of course she again treated me like I was her first priority. If I ever need anything involving a Real Estate transaction she will be my first call. Thanks Kris , you are the best!"
Robert Hardwick
"Kris Johnston is the consummate realtor. One of the biggest reasons Kris does such a great job is she loves real estate. In addition to that, she knows and understands the real estate market. Whether it is ranches, vineyards, estates, land, or residential neighborhoods, Kris is familiar with all property types. She knows how to price, market, and negotiate properties for her clients, as well as understand contracts and their technicalities. She exudes a confidence and professionalism, along with a pleasant personality that puts buyers and sellers at ease and confident their real estate needs will be met. I highly recommend Kris."
Carol Rickman
"Kris did a great job helping us sell our property in Ballard. She handled the marketing aspects especially well with great looking pictures for the listing and brochures as well as interfacing with other realtors in the area. Very knowledgeable, professional, and well-connected! All documents were handled efficiently with many of them processed electronically since we live in Northern California. Kris's communication via phone and email kept us informed in a timely manner throughout the process. Setting the right list price was critical to our success in selling our property within a couple weeks of listing it! Kris did a great job with the negotiations. She helped us to price our unique property above comparable past sales in the area but still within reason and gave us good advice upon receipt of offers. Overall, we appreciated her diligence, honesty and attention to details. We would use Kris again in a heartbeat!"
Lawrence Charles
"Dear Kris,
Julie and I can't thank you enough for the excellent work you've done for us these past several months. We greatly appreciate your commitment and professionalism towards selling our condominium and assisting us in purchasing our new residence.
Your passion and knowledge of the real estate market are unmatched, which is why we feel both transactions went incredibly smoothly. Without your marketing skills, we would have had a very challenging time selling our condo in this economy.
It seemed like every night you put in the late hours to make sure everything was in order. From start to finish, your consultative and caring approach put us at ease in what would have otherwise been stressful situations. Plus you were always available when we needed you!
Thank you for all your hard work. It has been an absolute pleasure spending time with you. We will continue to use you as a resource, and we will highly recommend you to anyone looking to sell or purchase real estate".
All the Best,
Casey McCann
"Staying in a fabulous rental in Rincon Point, we met Kris Johnson after seeing an ad for a home in Summerland. She was so enthusiastic and knowledgeable that we decided to do some serious looking with her. She first took us on a whirlwind tour off all the beach areas from Santa Barbara to Ventura. Our kids were staying with us and Kris was very accomodating to our schedule and going back to locations to include them. Kris was very attentive and intuitive about our desires and needs - some of which she helped us define - and was a pleasure to work with. We chose a house in the Seacliff area and Kris was awesome during the closing period, researching issues and gathering warranties for appliances. We love our new place and now consider Kris to be a great friend and we look forward to a long friendship.
Julie
"I have worked with Kris Johnston on (2) Lake Front Properties in Lake Arrowhead during the past 3 years.  Our working relationship was without a doubt, professional as well as a very pleasant experience. Kris has excellent ideas for the look she is trying to create.  Her attention to detail and understanding specifics is remarkable. Kris will be a tremendous resouce in handling all your real estate needs as well as a pleasure to work with.  I definitely recommend Kris's assistance in any real estate project you may have in mind."
Patrick Brennan
Owner, Patrick Brennan Construction
Current Vice President, Association of Building Contractors, San Bernardino Mountains
"In my twenty plus years of experience working in the design industry, certain clients stand out from the rest; Kris Johnston is one of those few. Working with her has always been a pleasurable experience, and it's been my privilege to come to know and respect her. During the various projects we've worked on together, she has proven time and again that, whether in the residential market or the commercial aspect of real estate, all that she touches "turns to gold." Kris's vision not only allows the creativity of design to flow but also makes it easy to maintain a good working relationship, even during the most challenging situations and complexities that come with the territory. Her experience and ability to foresee beyond the basic and elementary aspects of a project gives her an edge among others in the business. She becomes a valuable asset to any individual seeking her assistance. I strongly recommend Kris's expertise to anyone searching to profit in the real estate market."
Vic Lozzetti
A.I.A. Assoc.
Achievements
2010 Letter of Accomplishment, from Soetheby's Chief Operating Officer Frank Symons
Kris achieves Top 1% in Sales from NRT's President Bruce G. Zipf