White Cliffs Ranch, Paso Robles, CA 93446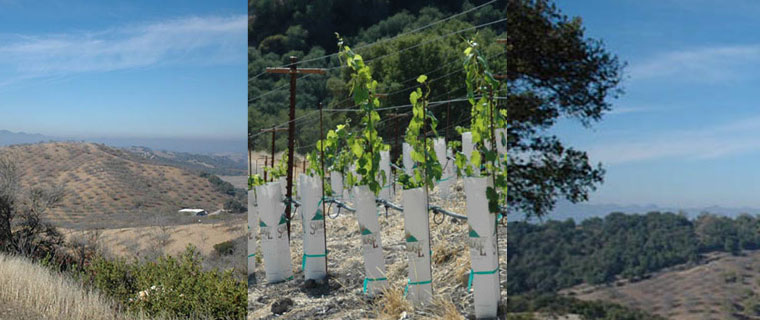 This property's photo slideshow requires Javascript and Flash Player 8.0.22 or greater. If you are seeing this message, your browser doesn't meet the requirements. Click here to go to Adobe's website to get the latest version of Flash, or you can use the links below to view other information about this property.
Please contact Kris Johnston if you're interested in this property or properties similar to this one:
SOLD: White Cliffs Ranch, Paso Robles, Ca 93446
Price Upon Request
The White Cliffs Ranch address is 7377 Adelaida Road, Paso Robles which is in the heart of Paso's westside premium wine country, just over a mile before Tablas Creek Winery and four miles before Justin Winery which are even farther west. Adelaida Road is just about the most coveted address for premium vineyards and wineries in the Paso area.
White Cliffs is the direct western neighbor of Adelaida Cellers, and contiguous to their famed Viking & HMR Vineyards just about 10 miles west of town. Elevations of 1800' to almost 2200' make it almost frost free year round; it would also be outstanding for olives or specialty citrus. The ranch is quite possibly the highest elevation vineyard on the Central Coast. Its' coastal influence moderates the climate. It is cooler than Paso in the summer and much warmer in the winter. (Paso proper gets deep frosts).
The ranch is 231.01 acres, but because of the rolling and hilly terrain it feels like over 400 acres. The original development cleared about 60 acres; over 45 acres are fenced in the main blocs. Eleven + acres of young vineyard are planted with Syrah, Tannat, Mourvedre, Petit Verdot and Cabernet Sauvignon clones on tightly spaced, drip irrigated aggressive hillsides. The soil series is Linne Callado. It is a clay loam with shale intermixed through out the soil profile. There are over 47 acres of expansion acreage ready for development.
There are 4 good wells on the property which were drilled four years ago producing 45 gpm. Currently there are two wells being used to irrigate the existing vineyard so there is plenty of water for crop expansion. There are miles of water mains throughout the property, even into the expansion acreage and future additional homesite areas.
The main homesites are set separately away from vineyard operations, and have spectacular views over the entire Paso region and to the Sierras beyond. There are ancient oaks by the homesites and over much of the entire property. The zoning allows for two primary residences with guest homes and up to four additional homes for caretakers, workers, and owners involved directly in operations. Additionally, agricultural structures under 3000 sq. ft. do not even need a permit under County standards, just submit location and drawing; there are five approved and three built.
There is a nice small year-round spring which can be used for domestic water. There is a good sized reservoir, a small wildlife pond, and a small pump relay pond on the top of the hill that can be integrated into the irrigation system. The location gets 30 to 40 inches of rain per year.
There is an existing 2600 sq. ft. two story custom steel barn with a mostly renovated 3 bedroom, 3 bath ranch office/apartment upstairs with over 1000 sq. ft. of decking surrounding it.